Kuntze Instruments launches new website
Kuntze Instruments is pleased to announce the release of our new website, designed with a fresh new look and user-friendly navigation, updated with the latest information about our products and services. Responsive web design makes the new website easy to read from any device.

Our goal is to provide customers clear and accurate product and service information, to demonstrate our expertise through the Kuntze portfolio, and to help them navigate in this challenging world of technologies. We hope you will enjoy our new site. If you have questions, comments or suggestions please send them to info@kuntze.com.
Kuntze on a EU business mission to Ho-Chi-Minh city (VNM)
The European Commission of the European Union (EU) selected Kuntze Instruments Germany for participation in an EU business mission to Singapore and Vietnam as a leading specialist in disinfection and water analytics. Kuntze's business strategy convinced the EU Commission that it's product portfolio will add value to water applications in the southeast Asian countries.
Kuntze's sales representative gave a very warm welcome to Mr. Hung Tran who is Vice President of Vietnam Water Supply and Sewerage Association (VWSA). Mr. Tran and his colleagues visited the Kuntze booth in order to get an inside view on a new technology in free chlorine measurement.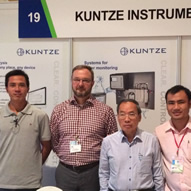 Kuntze Instruments Ukraine exhibits on Aqua-Therm in Kiev (UKR)
Aqua-Therm Kiev is the Eastern Europe's unique properly-segmented HVAC and water supply & treatment industry event presenting a new trend of energy efficiency in each sector. From 17 - 20 May 2016 the 18th international exhibition of energy-efficient heating, ventilation, air conditioning, water supply, renewable energy, plumbing and swimming pools takes place and Kuntze Instruments (Ukraine) exhibits its complete portfolio.
Kuntze Instruments continues to be recognised for 70 years of 'Know How' in the manufacturing of disinfection measurement and control instrumentation complemented by sensors.  The combination of manufacturing both instruments and sensors provides a much stronger knowledge base to provide solutions for various industries.