Kuntze Instruments USA Presents at AWT Annual Convention and Exposition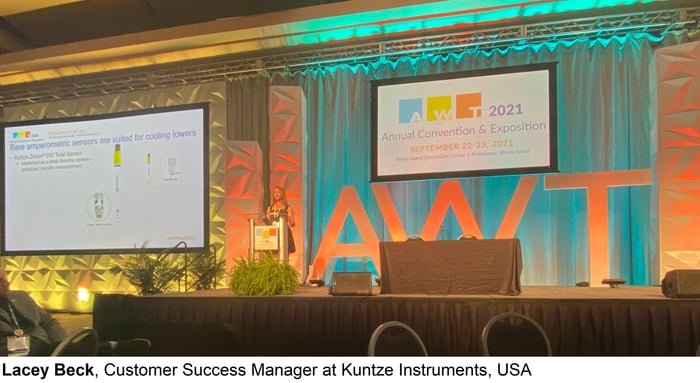 The Kuntze Instruments USA team exhibited a booth at the Association of Water Technologies (AWT) Annual Convention and Exposition in Providence, RI September 22-25. Per the AWT website, the convention is "…where water treatment professionals and industry partners gather to exchange time, resources, strategies, solutions, and more." During the exposition, the team had the opportunity to showcase Kuntze's complete disinfection measurement solutions to both end users and distribution companies in the water treatment industry. Valuable knowledge and experience was shared, new connections were made, and potential opportunities for Kuntze measurement solutions were realized.
The convention also featured several educational sessions covering topics such as boiler water, polymers, business and operations, Legionella, cooling water, and general water treatment. As a part of the cooling water track, Customer Success Manager Lacey Beck presented her paper "Novel Bare Amperometric Sensors to Provide Accurate Stabilized Bromine Dosing in Cooling Towers." Written as a collaboration with Pat Carew at Enerstar Inc., the paper outlines the first demonstration of a bare amperometric sensor to measure and directly control stabilized bromine products industrial cooling towers. Pat installed a Kuntze Krypton® DIS system with a Zirkon® DIS Total sensor on a 200-ton cooling tower treated with bromine and sulfamic acid. You can read the results of the study here: View Study.
Kuntze's bare amperometric sensors are uniquely suited for cooling tower applications due to their rugged and robust design and their highly interpretable measurement signal. To learn more about how a Kuntze measurement system could fit into your cooling tower, check out this case study or contact a Kuntze representative.